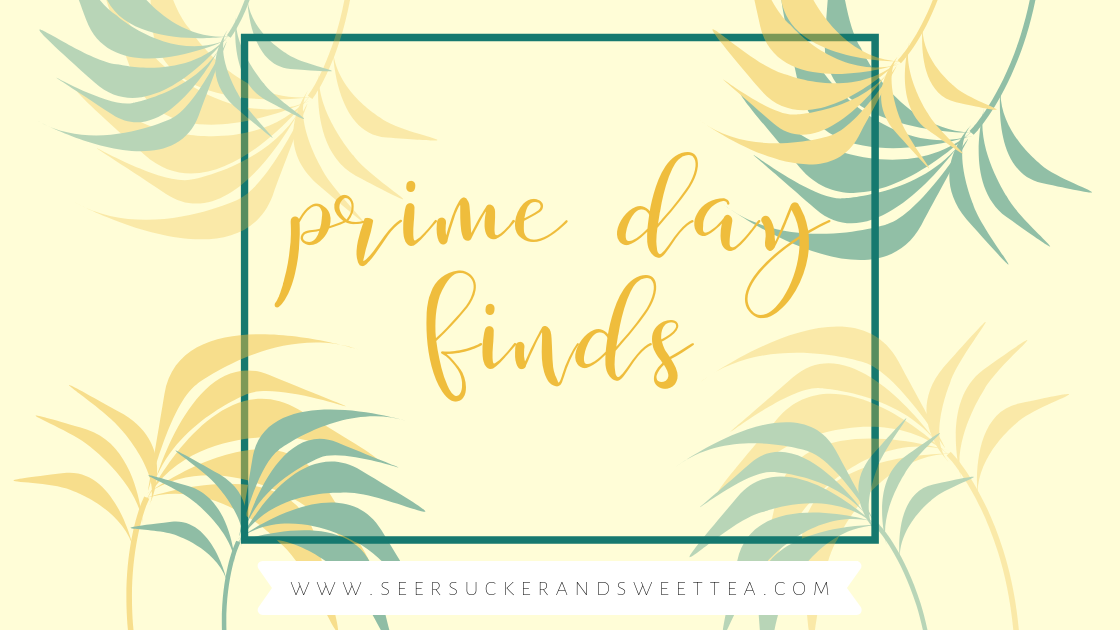 One of my favorite shopping days of the year!  Here are my top picks that I've found so far!  If you see good deals that I missed, let me know and I'll add them!
---
I snagged a Vitamix last year after wanting one for YEARRRRSSSSSS.  And it's been AWESOME!  With our move and home renovation, I haven't ventured far outside of smoothies and milkshakes for the girls, but I'm using it for pesto later this week and hopefully soups and sauces when we get back from our Florida vacay in August!  And yes, it blows my Nutribullet and Ninja out of the freakin' water.  No. More. Chunks!  The more advanced model is on super sale too: https://amzn.to/2lJqJWf
Price:
With Deal:

$179.95

  

&

 FREE Returns
You Save:
$90.00 (33%)
https://amzn.to/2laimCA
---
I snagged this guy last year on Prime Day because it mops AND vacuums, but if i needed just a lightweight cordless option, this would be the one I'd get.
Price:
With Deal:

$279.99

  
You Save:
$120.00 (30%)
https://amzn.to/2kc9Ans
---
SOLD OUT!
Sadly, these brushes get lost on the reg at our house.  I always have a backup in my car, Houston's truck, the travel bag, every bathroom, and the kitchen.  Because when you need it, you need it!  These don't look like a good deal at first because you can get them at Target for $7.49 each and the set of these is $15.99, BUT it's 30% off in the cart bringing them to $5.60 each… so, a couple of bucks off.  But, hey, I'll take it!
https://amzn.to/2Y5M7Xd
$15.99 regular for the pair  —> $11.19 in the cart for Prime Day
---
SOLD OUT!
The Queen of Kitchen Appliances got a facelift, and she's beautiful.  And comes with a glass bowl.
List Price:

$459.99

 
Price:
With Deal:

$239.99

  

&

 FREE Returns
You Save:
$220.00 (48%)
https://amzn.to/2Y5bFn7
---
  We. Love. This. Stuff!  Our new house has a pool and this makes it quick and easy to apply to three wild ones that don't want to stop playing to reapply!  Their amazing hand cream is 30% off too making it only $8.00!
---
We have an Ecobee but this is the Macdaddy version with Spotify control, Alexa, and all the bells and whistles.  Houston did hours of research and ours ended up being a better deal than the Nest and still had really good reviews.  Butttt, the Nest is on sale for Prime Day a little cheaper than this (without all the bells and whistles this one has).
Prime Day deal:  Your price at checkout is $199.00.
---
If parental controls are your thing, you can get the Echo Dot Kids Edition on sale for Prime Day.  The best part to me is the 2-year worry-free guarantee that says:  "If it breaks, return it and we'll replace it for free."  Because you know how gentle toddlers and kids are on things…
Price:
With Deal:

$44.99

  
You Save:
$25.00 (36%)
---
I wish I would have had this so badly when we were remodeling our kitchen.  I used the Instant Pot for just about everything but this would have been reallllllllly nice to have.  A friend of mine uses it for EVERYTHING… even cookies!  She hardly uses her oven anymore!

Price:
With Deal:

$129.95

  

&

 FREE Returns
You Save:
$50.00 (28%)
---
It's my three year anniversary with my Instant Pot, and now this newer model with WIFI and a CAKE feature is on super sale for $89 AND comes with an Echo Dot! We finally took a stab at making our own yogurt this spring and are hooked. The girls love it, they like helping make it and it saves $$… plus I know exactly what's in it. Perfect hardboiled eggs, frozen to cooked ground beef and chicken in 30 minutes, one pot meals… this guy was the only way we cooked inside for 4 months while we renovated our kitchen.  We used the Big Green Egg a ton too when it was nice outside, but this guy was the star of the show!
List Price:

$199.94

 
Price:
With Deal:

$89.00

  
You Save:
$110.94 (55%)
https://amzn.to/2lag5HE
---
One of my favorite books ever!  I got to know Emily in 2010 and have loved her books and planners ever since then!  Plus, she lives in Pensacola!
$1.99 on Prime Day – Kindle Version
---
I just started using their facial mist (https://amzn.to/2lag9Ho) and got hooked.  It makes my skin feel amazing from all the good stuff inside and doesn't seem to make me a weird color.  I'm excited to try this stuff this winter.  I've honestly never used a self-tanner before but my BFF swears by this stuff and her skin always looks amazing.
Price:

($5.25 / Fl Oz)

 
With Deal:

$29.40

  
You Save:
$12.60 (30%)
---
Really and truly, the MVP in the Haley house.  I run it in the living room at night (programmed) and then run it each day in one of the bedrooms from the app.  Game. Changer.  Especially if you have kids and/or pets. (Here is a less expensive option: https://amzn.to/2lzMQhK)
Price:
With Deal:

$299.99

  
You Save:
$149.01 (33%)
---
SOLD OUT!
All of my coffee drinking friends are going crazy over this one:
Bundle Price:
Deal Price:

$99.99

 

You Save:

$77.00

 

less than buying separately
---
I'm a big fan of sparkling water and have been eyeing this guy for a long, long time!
Prime Day deal: You save an additional $22.00 on this item at checkout making the total $51.34)
---
I haven't done one of these yet, but I'm soooooo tempted to do it! And it's half off!
Price:
With Deal:

$99.99

  

&

FREE Returns

You Save:
$99.01 (50%)
---
We have these on all of our TVs and a dot in every room.  Mostly for the timer and dance parties in the kitchen, and lullabies at night… "Awexa, play lullabies" + "Alexa, play the clean up song". 😉
| | |
| --- | --- |
| Price: | |
| With Deal: | $24.99 |
| You Save: | $25.00 (50%) |
---
We loved our Puddle Jumpers before the girls took ISR lessons!  And they're on super sale!

| | |
| --- | --- |
| List Price: | $26.95 |
| Price: |   |
| You Save: | $14.37 (53%) |
---
This guy was my lifeline and kept me sane (and off social media 24/7) while I was nursing newborn twins.  Easy on the eyes, and now it's waterproof!  I still love mine but I use Audible more these days.  Speaking of… go listen to "Where the Crawdads Sing" RIGHT. NOW.
Price:
With Deal:

$84.99

  
You Save:
$45.00 (35%)
---
What did I miss?!?
*The links shared are affiliate links and I may make a small commission of your purchase if they're used to shop.  You are not obligated to use these links when you make a purchase, but when you do it helps to support my blog and family — so thank you!